Nancy White presents The Bridges at Rancho Santa Fe

The Bridges Club at Rancho Santa Fe
The Bridges is an exclusive enclave that was designed and built to preserve the natural habitat and terrain. The community is built around a challenging and beautiful championship golf course. This site became the Bridges after an unsuccessful attempt by another group to start a golf course. The transformation has been remarkable with no detail overlooked. The 35,000 sq.ft. Tuscan-style clubhouse was completed in 2000.The club prides itself on details, such as knowing each member's favorite drink and having it ready for them when they enter the bar. There is even a stash of Oreo cookies in the hallway as a fun thing for a member who loves them!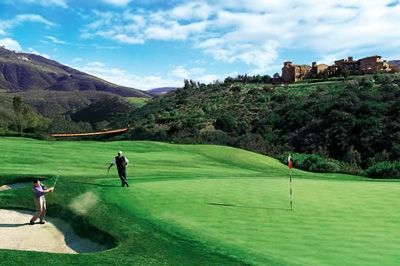 Fees:
Initiation Fee: $125,000
- Full Equity Membership
- National Mmberships
- Junior / Legacy Club Membership - non-equity. Must be under 40 years of age. It ends when one of the members reaches age 40.

Dues: $2244 Monthly
Food & Beverage: No Minimum
Green Fees: Weekdays and Weekends $125
Cart Fee: Included
Locker Fee: Included
Total Monthly: $2244
Club Facts:
Year admitted to SCGA - 1999
Architect: Robert Trent Jones, Jr.
Location: 18550 Seven Bridges Road, RSF 92091
Phone: 858-759-7200
Holes:
18 - walking permitted (It is a challenge to walk - lots of distance between holes, lots of elevation changes, and there are 7 bridges to cross!)
Par:
71 from the Black Tees / Yardage: 6901 / Slope: 143 / Rating: 73.7
Noteworthy Events:
2003 - The Battle of the Bridges Tiger Woods and John Daly
2004 - The Battle of the Bridges battled Phil Mickelson and
2005 - The Battle of the Bridges Retief Goosen in a Best Ball Match These matches were nationally televised and all of us locally were glued to our TV sets! It was a thrill to watch and to see our neighborhood course get national attention!