Learn why Nancy White is your trusted realtor that can help you buy or sell your new home.
Real experience for the right home.
Buying or selling a house isn't just about finding a place to live. It's about enhancing your way of life. As a resident of Rancho Santa Fe for more than 25 years, I've watched the area grow and know just what you're looking for to find you the right fit. That's why you can rely on my experienced past to inform your immediate future. It would be my pleasure to help you find your dream home.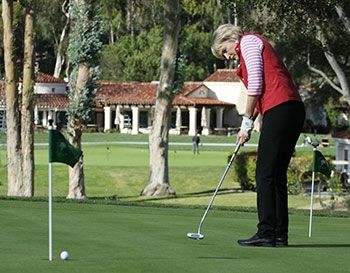 Perfecting the game!
Real Estate is a lot like Golf. It is the close attention to details where the game is won. Let me help you win the game.
Love where you live
In real estate, the greatest endorsement isn't talking the talk. It's walking the walk. That's why I'm so proud to say I've been a resident here since 1989. My hope is that my 28+ years living, working, and being involved in my community speaks volumes about just how perfect this area is.
In that time, I've encountered myriad questions and discovered even more answers. I've diligently pursued professional designations to constantly improve myself and better serve my clients. Backed by Berkshire Hathaway's rock-solid resources, I can help you avoid the traditional pitfalls of buying or selling a home. Whether you're a young family upgrading to a first home or a senior wanting to transition from a long-time residence, I'm deeply dedicated to providing every client clear communication and a path to proven success without the stress or guesswork.

​With today's technology, there's more real estate information available than ever before. But how do you know you can trust what you find online? That's where I come in. I sift through the mountains of data and accurately filter it based on my years of personal experience. The end result? You're confidently empowered to make the most informed real estate decision possible.
With more than 30 years real estate experience, and unparalleled dedication to her clients, Nancy White is the right choice for you for Rancho Santa Fe Real Estate.
"I don't view my job as work because I enjoy working with clients every day. Berkshire Hathaway offers incredible support in my endeavors to serve my clients. I have a wonderful husband behind me and a terrific support staff. I work hard but am deeply rewarded by satisfied clients."
Areas of Expertise Include Golf, Architecture and Seniors
Golf
As a long-time resident of Rancho Santa Fe and a member of the Rancho Santa Fe Golf Club, Nancy is very knowledgeable about golf, as well as the private clubs in the area. She is the right choice when you are looking for the perfect home and the right golf club.
Architectural Properties
Trained and experienced in the marketing of architect-designed estates, Nancy represents her clients with exceptional professionalism. She is adept in dealings with exclusive home buyers and sellers where many details must be meticulously handled. With the strength of Berkshire Hathaway's Luxury International marketing and the Berkshire Hathaway Architectural Properties Division backing her, Nancy gives the widest possible exposure to her clients' unique homes and is able to attract the most qualified Buyers.
Seniors
As a North San Diego County resident for over 30 years, and a Realtor for over 32 years, Nancy knows San Diego County!
She has earned 8 different designations relating to her real estate career. The one she is most proud of is her SRES - Seniors Real Estate Specialist - which she has held since 1999.
Nancy's Goal in serving her mature clients is to help them avoid Crisis Management! She has put together a team of professionals who help her guide her clients and their families in the right direction, be it staying in their current home, or chosing to relocate to the right-sized home that better fits their current needs. By looking at all the options now, she helps her clients avoid the big "C" word (Crisis).
It is a daunting task to leave a home after many years of wonderful memories. Where do you begin? Nancy understands how you feel. With her team of professionals, she is there to help you in a non-stressful, focused way move through each step of the way, from sorting through papers and files, to deciding what you want to keep, to deciding where all the rest goes - to selling that home.
Her team will even pack and move you to that right-sized home, and then unpack, and even hang pictures!
Nancy and her team are ready to take your life from -
Overwhelming to Easy!
Call, Text or Email Today for a Free Consultation!
Nancy White at 858-735-6505
Nancy@NancyWhite.com